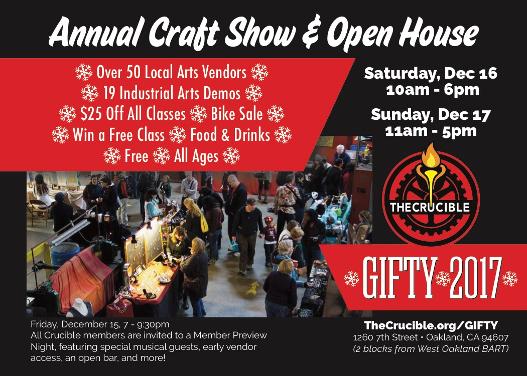 Saturday, December 16, 2017 | 10am-6pm Sunday, December 17, 2017 | 11am-5pm

Join Suzane Beaubrun and Riquelle at
GIFTY 2017, dozens of leading East Bay artists, craftspeople, and Crucible faculty members will be selling their best handmade pieces in a holiday celebration of local creative culture. There will be season treats, beverages, and holiday entertainers to make this an event all ages can enjoy.
Check out exciting demonstrations in Glass Blowing, Blacksmithing, Foundry, and more!

Saturday, December 16 | 10am-6pm & Sunday, December 17, | 11am-5pm

The Crucible
1260 7th St. Oakland, CA 94607
for more info: https://tinyurl.com/ycfdzt5b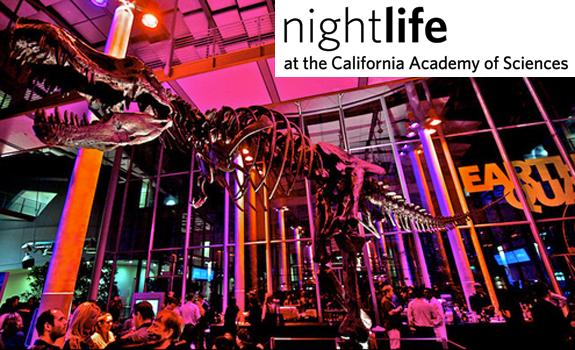 This week, NightLife's annual holiday bazaar returns, featuring a merry marketplace of gift-worthy treasures

from dozens of local makers and merchants, curated by SF Bazaar.
Member: $12, Non-Member: $15
Ages 21+, ID required for entry.
The California Academy of Sciences
Golden Gate Park
55 Music Concourse Drive
The 9th Annual Albany Middle School Arts & Crafts Fair
Sunday, December 3, 2017 from 11am-3pm.
You're invited to come do some holiday shopping with Pretty Fun and others!
Featuring high-quality art and craftwork from both kid and adult artists at this wonderful free community event.
When: Sunday, December 3rd from 11-3pm
Where: The Albany Middle School Gym at 1259 Brighton Avenue (Brighton & Masonic in Albany).
Enjoy local artists, music, and delicious baked goods!
Love to see you there!
Riquelle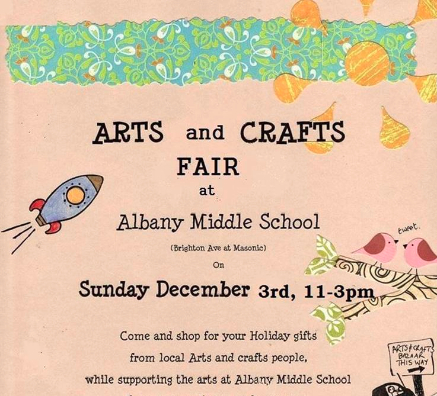 SHOP FOR PRETTY FUN DESIGNS IN STORES

• Collage Gallery > 1345 18th St San Francisco, CA

• Concept 47 > 4727 Telegraph Ave Oakland, CA

• Local Take > 1371 9th Ave San Francisco, CA

• Local Take > 3979B 17th Street, San Francisco, CA

• Modern Mouse > 2223 South Shore Center, Alameda, CA


About
Pretty Fun Designs, creates well-designed, vintage-inspired, mischievous jewelry that reflect an eclectic mixture of frivolity, power and elegance.

Pretty Fun Designs jewelry is consciously designed, hand-assembled, and energy-charged using a mix of stones, metals, finished and handmade parts by Riquelle in Oakland, California.

Feel & look great wearing Pretty Fun Designs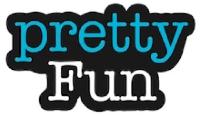 Thank you for supporting local business and
Pretty Fun Designs.

ENJOY!